Ao Prao Resort, Ao Prao Beach, Koh Samed
Hotel Star Rate: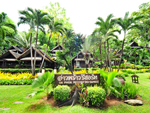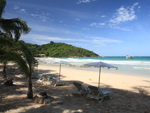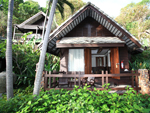 Ao Prao Resort Located in a stunning location at the northern headland of lovely Ao Prao Beach, on the west cost of Koh Samed (Samed Island), renowned for its crystalline white sand beaches. Only 2 ½ hours by road from Bangkok, or one hour from Pattaya, followed by a short sea crossing in our shuttle boat. For the active holiday makers … Sailing, windsurfing, snorkeling, diving, fishing, boating, sunbathing, swimming, bike riding or relaxing in your own trophies style cottage set in luxuriant greenery.

A vacation on a tropical island has never been better than this. Ao Prao is a resort village located on a secluded beach with spacious cottages , first-class facilities, fantastic food and accommodation that offers real style, comfort and warmth. Here, you are miles away from everyday worries with all the beauty and wonder of a tropical paradise. This is the perfect vacation spot for couples or families and also offers modern facilities for a company seminar or conference for up to 70 delegates. Ao Prao is a tropic island vacation resort that is beyond your expectations.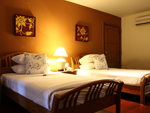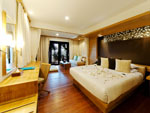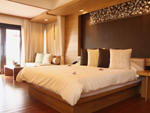 Accommodation Ao Prao Resort: has been designed to blend harmoniously into the tropical hilly landscape. The cool, steep-roofed, wooden cottages are nestled in the lush hillside. Decorated in a stylish, simple and comfortable way, each unit is self-contained with its own balcony overlooking the sea, where you can treasure the spectacular sunsets. In a stunning location at the northern headland of the lovely Ao Prao Beach, on the west coast of Koh Samed, Ao Prao Resort offers a total of 52 rooms with a mix of deluxe room, deluxe cottages and beachfront cottages.